Independent Film and Music

What we lack in talent we make up for in sex, and lots of it!
---
The Leaders of Demented Shmuck Productions ARE...

...Mike Gray-President(director, writer, musician, guitarist) ...Keith Reilly-President(director, writer, musician, bassist)

Here we are, coming to you from Central Jersey, scraping our pitiful resources for your entertainment. Just look around, get comfortable, and find out as much as possible about this small but thriving production company by going around the image map and traveling through this maze of production malarchy.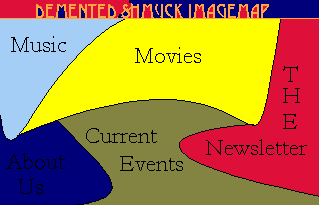 ---
WHAT IN THE BLOODY HELL IS THIS MUSIC PLAYING IN THE BACKGROUND?
I'm glad you asked! It's the music of I, Keith Reilly. I'm working vigorously on a concept album (entitled Solid Enigma) in which the theme is the answer to life. I have a tracklist, meaning of the songs, lyrics and artwork available. But THAT will be available through our Demented Shmuck Newsletter, so sign up today! But here is a list of the songs you might be listening to (This page uses a JavaScript that randomizes MIDIs):
Cerebral Shutdown
Maniacal Juggernaut
Panic
Apocalyptic Piano Showdown
If your browser supports MIDI playback and JavaScript, then you should be hearing one of these songs. If not, WHERE THE HELL HAVE YOU BEEN??? Get a better browser, you fool!
---
NEWS: DEMENTED SHMUCK STYLE
Updated 5-18-98
WHAT'S ON THE CHOPPING BLOCK FOR THE SUMMER?
By Mike Gray
The summer's upon us, which means break from school, which means lots of free time to develop, write and create. What's coming up? A new tape definitely within the next month, as well as the debut tape from Keith Reilly the mysterious Solid Enigma. A book of short intertwining stories from Mike Gray, the shooting of the movie Link-Suburban Legend, and the beginning of a (most likely) long, arduous and hard journey to find founding for the later-coming movie Dreams. The big news, though, is the first single coming out on the Demented Shmuck label. Most likely forming on a 7" vinyl, it will include brand new songs from Mike Gray and Keith Reilly, with a full backing band. The Demented Shmuck family is booming, with a work force of about 15 artists, musicians, actors, helpers, backers, money lenders and assorted characters abound. Also this summer is the writing of a large-scale grandeur orchestra piece written by (who else?) Mike and Keith. Keith and Mike. Mike and Ike. This is most likely far far FAR down the road, but we'll get there. Just hang on for the ride.
---
PROJECTS WE ARE CURRENTLY WORKING ON
It's official! Mike has completed the first Demented Shmuck Production: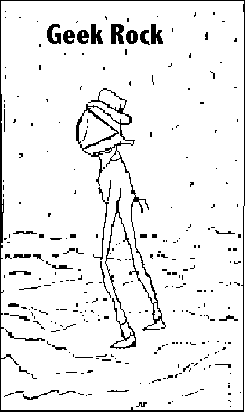 (Geek Rock page written by Mike Gray)

We are currently working on our first film, Link - Suburban Legend, which begins shooting this month. Mike continues to record music, and has 3 concept albums in mind and a tape (mentioned earlier), which will soon be distributed on the internet. I am currently working on a demo for a concept album of my own, and I will soon offer the MIDIs/lyrics for songs I have already written. Our next movie project is one we are especially fond of, for it's one of our favorite concepts yet. We're soon to finish the script, but the overview of the movie is Dreams. More about that coming soon.


Cast of Link-Suburban Legend

DEMENTED SHMUCK MONTHLY NEWSLETTER

Every month, Demented Shmuck is sending out a newsletter of news, updates, upcoming projects, and other goodies, such as a monthly serial of a story Mike is writing called "On the Mountain". Fill out the following form to subscribe to the DS newsletter.
Oh yeah, did we mention it's FREE?

---
---
WE HAVE A SLOGAN!
The votes are in! The winner by a landslide was Slogan #5: What we lack in talent we make up for in sex, and lots of it!

So once again, thank you wonderful people for voting! And for those of you who missed out, the slogan we had up for voting are still available at the bottom in either RealAudio or WAV format.
Slogan #1



Slogan #2



Slogan #3



Slogan #4



Slogan #5



Slogan #6



Slogan #7


---
Please visit some friends of ours: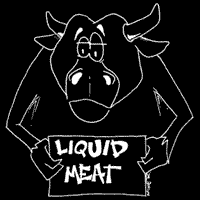 Liquid Meat
Starting Point
Matt Lafferty - Good guy and actor in Link - Suburban Legend Needful Things
*Although this page is a Warez page, which we at Demented Shmuck do not promote, it is owned and managed by a good friend of ours, Dan Gaestel.
The Entertainment homepage of Travis Cadalzo, who is the star of Link - Suburban Legend and a proud member of the Demented Shmuck family
---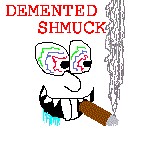 Sign the Demented Shmuck Guestbook!
View the Demented Shmuck Guestbook!
---
Who are these fantastic people?

Mike Gray-E-MAIL! Keith Reilly-E-MAIL! And of course, you! Who happens to be #
to visit this site!
---
Copyright ©1997, Demented Shmuck™ Productions. All rights reserved. The Demented Shmuck™ logo, Demented Shmuck Banner, Demented Shmuck slogans and Link - Suburban Legend™ are all property of Demented Shmuck. Copying or illegal use of any names, is prohibited.
Stealing of logos, sounds or ideas copyrighted by Demented Shmuck will result in a serious ass-kicking.