To whoever felt so tired...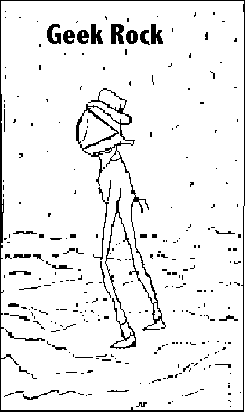 The tape your friends will be talking about until they get it; the long-time coming debut tape from Mike Gray mixes guitar, bass, vocals and eerie pedal effects with a dash of percussion (Curtesy Clint Higgins) to create an odd melange of pretentious guitar art-rock. Here's the tracklisting (Click for a RealAudio sound sample):
1.)Geek Rock
2.)Confucius
3.)Flanger #1
4.)Underwater
5.)Mystery Music
6.)Descent/Attack
7.)Flanger #2
8.)Walk-In Closet
9.)Sonic
10.)End
(all apalogies for the retched sound qualities of the sound samples. Due to the many hands the sound has gone through before it got recorded onto the computer, the sound isn't the best)
---
Want a copy? Sure you do! If so, please send about $3 or so to:
Mike Gray
817 Rosewood Ave.
Pt. Pleasant, NJ
08742
I'm not really the profit-seeker I come across as. The $3 pretty much just covers for the tapes, postage, and the time spent dubbing off the copies.
---
To whoever felt so tired
and to whoever looked so strange
under a single stick of fire
where we all live and reign
and to all the pompous cheerleaders
with their bright outfits aglow
maybe to all the cheaters
for who the class has shown
And to all of you smokers, who lit their lungs on fire
And maybe to all you drinkers, who have doused the flaming liar...
To all those who love music
And let this in their ears ring
Thank you for listening.
-Geek Rock
Geek Rock is a Demented Shmuck Production